Services
Our mechanics can service most makes and models, both old and new. Feel free to drop your bike off with us so we can check it over and give you an estimate.
General repair costs: Repair costs are subject to change based upon the condition of the bike and the type of repairs necessary. We will always call you if there becomes a change in cost from a quoted price.

Fitting
The first step in bike fit is finding the right bicycle for you. We will work with you when selecting a new bicycle so you can leave our shop with the peace of mind that you are properly setup and ready to roll. We believe that a proper bike fit is essential to your cycling experience. Whether you are riding for recreation, fitness, or competition our professional fitters can get you set up in the best position for your needs. We have decades of fitting experience and have yet come across someone that hasn't benefitted from a proper fit.
If you already own a bicycle but are in need of a retro-fit we will work with you here too. Although this may not be the optimal of situations for a proper bike fit, we will help you find the right position for you on your existing bicycle.
Custom Wheel Building
Longevity, serviceability, customization. These are the major advantages to hand building a custom set of wheels. Whether you're after wind piercing aerodynamics or bullet-proof durability, Handlebars is here to guide you every step of the way. From selecting hubs to lacing up spokes, our master wheelbuilders possess the skill and experience required to provide you with a beautiful, long-lasting set of wheels. Stop in today and see what we can do for you!

Experience
This is where we have the other guy's beat! Our staff has more cycling experience than anyone else out there, and we're all happy to share our knowledge with you. We know the bikes, parts, and accessories in our store because we use them day in and day out. When experience matters, come to Handlebars!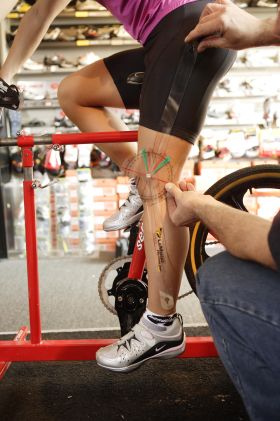 We make sure your bike fits you perfectly.